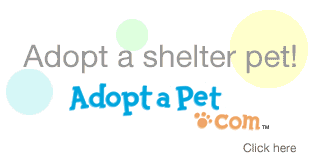 ---
Adoption Forms

If you are interested in adopting one of our available pets, please complete the application below. One of our Adoption Coordinators will get right back to you! Thank you for considering a shelter animal for a forever friend!
Cat Adoption Form
Dog Adoption Form
Lost Pets and Lily Alerts
Contact POA Animal Control at 922-6547, and for additional help finding your pet, send information for a Lily Alert - see below. We will help you publicize the pet in the Village and give you other tips on finding your pet.
If a pet is missing, immediately call Animal Control at 922-6547. To expand the coverage, call AWL at 915-9337 and ask to participate in the Lily Alert program. The volunteer on duty will instruct the pet owner as to the procedures involved. Or, email a photo, description, and contact information to lilyalert@hsvawl.org. Once initiated, the pet's description and contact information will go out to those receiving the alerts.
To be included in Lily Alert email list, send your email address and we will add you to the list lilyalert@hsvawl.org.
Stray or Found Pets
These pets are admitted to Animal Control or rescued through other community sources and may be someone's lost pets. Their photos are posted on the HSV Police Department Facebook page, so please contact Animal Control if you may be the owner or have information that may help reunite a pet with its owner: 922-6547.
Stray or found cats and dogs should be reported directly by a resident to POA Animal Control at 922-6547, not by someone else with second-hand information. If an animal needs to be trapped, Animal Control has to obtain the homeowners' permission to set a trap on their property. AWL strongly recommends that those concerned about pets roaming on or near their property, first try to see whether the pet belongs to a neighbor before calling Animal Control.

Click here to join or renew your membership online with your credit card.
Donate to AWL
We are an all volunteer 501(c)(3) nonprofit rescue organization which works in conjunction with the HSV Property Owners Association Animal Shelter. Our mission is to place all rescued/surrendered adoptable companion animals into loving homes and to prevent the overpopulation of unwanted animals.
Donate Online: Click here to donate online with your credit card.



Print Donation Form: Click here to complete the form, print, and mail to the address shown on the form.


Champions Program: Click here to donate quarterly or annually online with your credit card.


Champions Program: Click here to print. Complete and mail to the address shown on the form.
Shop Online: When you shop online, you have two ways to give to AWL without spending a penny more. The iGive and Smile programs support charitable organizations by contributing to the group you choose. The donations come from the company whenever you shop online at a business that cooperates with the program. Thousands of businesses do, so it's a bonus for those who shop online.
iGive: Go to iGive, sign up, and choose Hot Springs Village Animal Welfare League. Over 1,700 online stores donate a percentage of your purchase to attract your business and repeat shopping.
Amazon Smile: Go to Smile and select Hot Springs Village Animal Welfare League before you begin shopping. Then every eligible purchase at smile.amazon.com will result in a donation.
Walk for a Dog: You walk your dog anyway. Now every time you walk your dog (or a virtual dog), they donate to HSV AWL. Treadmills don't count.
Get the app at WoofTrax.com and take your Walk for a Dog Everyday.
---
Eureka! AWL Eureka Springs Trip is Booking Now
Vacation Valet, one of our faithful supporters, has an adventure for AWL and friends on a deluxe motorcoach.
Can you imagine staying in a historic 1886 hotel, especially if it's known for a bit of paranormal activity? Can you imagine a leisurely dinner "on the rails" winding through the Ozarks in the spring? If you're a cat lover, can you envision seeing majestic BIG CATS in natural environments? Can you see yourself strolling and shopping in quaint shops in beautiful downtown Eureka Springs?
Join the AWL Eureka Springs adventure May 8-9-10!
This trip is limited to 40 persons. AWL members will have until 4/6/18 to sign up and then it will be opened to the general public. This one will sell out fast. It includes:
Two nights at historic Crescent Hotel
Visits: Turpentine Creek Wildlife and Shepherd of the Hills Humane Society
See attached flyer for details
---
"No Fleas" Flea Market Again a Success
On Saturday, April 21st, supporters, donors, friends, and volunteers of the Animal Welfare League helped raise more than $2,345.00 at our spring "No Fleas" Flea Market. Now in its third year, the popular event "has been continually growing," according to Beverly Fitzpatrick, AWL Board of Directors Treasurer. "For the first time, we had enough space to display all the merchandise that was donated to the sale." Thanks to the Hot Springs Village Police Department, the AWL was able to use both the indoor space and exterior areas of the Police Training and Event Center at 301 Balearic Road.
The event attracted bargain hunters seeking all types of merchandise, and they weren't disappointed. Besides several tables of items for pet owners, there were crafts by artists, homemade baked goods, collectibles, holiday décor, ladies' accessories, and housewares.
Also, a first for the flea market was a partnership with WoofTrax Shoes for Shelters and Rescues whereby AWL collected donations of pairs of new or gently used shoes. The partnership is good for all because the donated shoes will not only bring AWL needed funds, but will be repurposed to help needy families and the environment by keeping the shoes out of landfills.
Special thanks to Co-Chairs Chari Larimore and Judy Sierocuk and their team of dedicated volunteers, and to all the donors and shoppers who made this a successful event.
Please continue to save unwanted, slightly used household items to donate for the next "No Fleas" Flea Market on Saturday, October 13th.