See All of Our Available Pets on Adopt-a-Pet
(Click the image)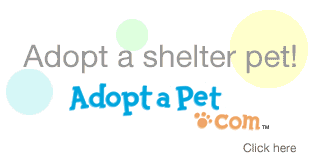 ---
Adoption Forms
If you are interested in adopting one of our available pets, please complete the application below. One of our Adoption Coordinators will get right back to you! Thank you for considering a shelter animal for a forever friend!

Cat Adoption Form
Dog Adoption Form
---
Pets of the Week
TYLER: Neutered male, about 4 1/2 years old. Tyler,a true lover boy, is looking for his forever home. He is a favorite of the volunteers, but apparently he does not get along well with other cats, which is why he has not found a home. He is available during December as part of the "Bring Joy" adoption special of only $25. Come meet him and take him home for the holidays! Call Nancy at (501) 922-6444 or Connie at (501) 915-9702 for information.
---
Purchase Bissell Products and Help Pets
(Click the images for more information)
---
Desoto Dog Park
The Desoto Dog Park was established as a gated, off-leash dog park for well behaved dogs to exercise in a clean, safe environment. For more information click here.
Video of Dog Park from Air
Hot Springs Village Animal Welfare League has been activated as a No More Homeless Pets Network Partner! Best Friends created the No More Homeless Pets Network (NMHP Network) to work with rescue organizations and shelters around the country that are reducing euthanasia rates and saving lives in their communities. Click here to see a summary of our organization's statistics and an overall save rate for the reporting period.
---
Annual AWL Holiday Party
The Holiday Party is on Friday, January 20th, at Diamante County Club. We promise you will savor the food, which includes pork tenderloin, stuffed chicken breast, new potatoes, peas w/ pearl onions, salad, rolls, warm cherry cobbler, and coffee/tea.
We have so many successes to celebrate, and we want this dinner to be an opportunity to socialize with all who sustain our mission. So many of our members contribute not only their financial support, but also their time and talents as some of our numerous volunteers.
A cash bar opens at 5:00, and dinner begins at 6:00. Then AWL will introduce the Board of Directors, including the newly elected officers.
The dinner cost for each person is $26, so get your reservation in and don't miss out on this joyful evening. Simply print the reservation form and complete it. Mail with your payment to the address on the form by January 12th. Email questions to Mary McCullough
"No Fleas" Flea Markets
Reserve the dates of Saturday April 8th and October 7th for our spring and fall flea markets. The Police Training and Event Center will be the location instead of the Coronado Center. It is the former Fuel Stop by the Catholic Church on Balearic, which is a more visible site and has more parking for access. We will have the sale (mostly outdoor under the canopy) from 9:00 a.m. to noon. We set up between 8:00-9:00 and tear down at noon. We have either Salvation Army or Restore come pick up the unsold items that we do not reserve.
If you haven't attended one of our flea markets, you are missing out on some treasures, and only a portion of the items are pet-related. We rely on donated items that are usable, including kitchen objects, decorations, home décor, books, jewelry, and other household goods. No clothes or furniture (except furniture that can be carried out).
So, begin setting aside items as you go through your closets and cabinets. Price them and box them up, then bring them to the sale on the day of the event. The event volunteers will do the rest!
During 2016 through end of October, the sale of miscellaneous items has yielded over $5,000.00! This total includes our profit from the flea markets, sales on Ebay, and sales by Teapots & Treasures, all of which are organized by our Board member, Deborah King.
---
Unique Fundraiser – Doggone Baby Blankets
One of our new Directors, Sheila Cosby, is super talented and will donate her time and talent to creating something lovely and useful: gorgeous baby blankets and outfits. She will give all proceeds to AWL! What a windfall for AWL because these are amazing creations. You can get an idea from the photo that these lovely knitted baby blankets and outfits are a real bargain. Buy or order some for your children, grandkids, great nieces or nephews, or children of friends. They are guaranteed to be a hit with everyone, especially the parents. For information, email Sheila Cosby.
---
Cookbooks Still Available!
We sold so many initially that we had to place a second order. At $10 a book, they are a bargain and make fun family gifts. Be ready to buy a bunch! Order your cookbooks by calling Sarah Yerkes at 915-8982 or emailing Sarah. We will also have cookbooks at all member meetings while quantities last.
---
Recycle Your Cans for AWL
Tenenbaum Recycling Group of Hot Springs is handling aluminum beverage can recycling for AWL. Their yellow dumpster is located at the POA Minorca Sanitation site, located at 218 Minorca Road, just across from the Cedar Creek trail head. It's open Monday–Friday 9:00 a.m. – 3:00 p.m. Recycle ALUMINUM BEVERAGE CANS ONLY.
---
Lost or found a pet?
Go to Lily Alert!
---
Donations and Contributions
to AWL Made Easy

Donate Online: Click here to donate online with your credit card.
Print Donation Form:Click here to complete the form, print, and mail to the address shown on the form.

Champions Program: Click here to donate quarterly or annually online with your credit card.
Shop Online: When you shop online, you have two ways to give to AWL without spending a penny more. The iGive and Smile programs support charitable organizations by contributing to the group you choose. The donations come from the company whenever you shop online at a business that cooperates with the program. Thousands of businesses do, so it's a bonus for those who shop online.
iGive: Go to iGive, sign up, and choose Hot Springs Village Animal Welfare League. Over 1,700 online stores donate a percentage of your purchase to attract your business and repeat shopping.
Amazon Smile: Go to Smile and select Hot Springs Village Animal Welfare League before you begin shopping. Then every eligible purchase at smile.amazon.com will result in a donation.
---
Adoption Hours and Location
Monday - Saturday
10:00 a.m. to 3:00 p.m.
Closed Sundays and holidays

HSV Adoption Center
195 Cloaca Lane
Hot Springs Village, AR 71909
Directions from the East Gate (Hwy 5)
Directions from the West Gate (Hwy 7)

501-915-9337
P.O. Box 8032
Hot Springs Village, AR 71910-8032
Lily Alert
The Lily Alert is named for the standard poodle, Lily, who was lost and missing for several weeks before being found, due in part to many efforts by AWL members. The Lily Alert was initiated to step up the efforts to locate missing pets.

If a pet is missing, immediately call animal control at 922-6547. To expand the coverage, call the AWL at 915-9337 and ask to participate in the Lily Alert program. The volunteer on duty will instruct the pet owner as to the procedures involved. Or, email a photo, description, and contact information to Contact Us. Once initiated, the pet's description and contact information will go out to AWL membership by E-blast and website. Pet registration with the POA will increase the potential for a happy ending!

To be included in Lily Alert emails, send your email address to Contact Us and we will add you to the list.
Lost and Found Pets
LOST pets: Contact POA Animal Control at 922-6547, and then call the Animal Welfare League at 915-9337 for additional help finding your pet. We will help you publicize the pet in the Village and give you other tips on finding your pet.

FOUND pets: These pets are admitted to Animal Control or rescued through other community sources and may be someone's lost pets. Their photos are posted, so please contact Animal Control if you may be the owner or have information that may help reunite a pet with its owner: 922-6547.

Photos of pets at Animal Control Intake are posted in the POA Police Department's Facebook page Police Department Facebook.