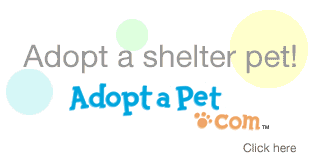 ---
Adoption Forms

If you are interested in adopting one of our available pets, please complete the application below. One of our Adoption Coordinators will get right back to you! Thank you for considering a shelter animal for a forever friend!
Cat Adoption Form
Dog Adoption Form
Lost Pets and Lily Alerts
Contact POA Animal Control at 922-6547, and for additional help finding your pet, send information for a Lily Alert - see below. We will help you publicize the pet in the Village and give you other tips on finding your pet..
If a pet is missing, immediately call animal control at 922-6547. To expand the coverage, call the AWL at 915-9337 and ask to participate in the Lily Alert program. The volunteer on duty will instruct the pet owner as to the procedures involved. Or, email a photo, description, and contact information to lilyalert@hsvawl.org. Once initiated, the pet's description and contact information will go out to those receiving the alerts.
To be included in Lily Alert email list, send your email address and we will add you to the list lilyalert@hsvawl.org.
Found Pets
These pets are admitted to Animal Control or rescued through other community sources and may be someone's lost pets. Their photos are posted, so please contact Animal Control if you may be the owner or have information that may help reunite a pet with its owner: 922-6547.

Click here to join or renew your membership online with your credit card.
Donate to AWL
We are an all volunteer 501(c)(3) nonprofit rescue organization which works in conjunction with the HSV Property Owners Association Animal Shelter. Our mission is to place all rescued/surrendered adoptable companion animals into loving homes and to prevent the overpopulation of unwanted animals.
Donate Online: Click here to donate online with your credit card.



Print Donation Form: Click here to complete the form, print, and mail to the address shown on the form.


Champions Program: Click here to donate quarterly or annually online with your credit card.


Champions Program: Click here to print. Complete and mail to the address shown on the form.
Shop Online: When you shop online, you have two ways to give to AWL without spending a penny more. The iGive and Smile programs support charitable organizations by contributing to the group you choose. The donations come from the company whenever you shop online at a business that cooperates with the program. Thousands of businesses do, so it's a bonus for those who shop online.
iGive: Go to iGive, sign up, and choose Hot Springs Village Animal Welfare League. Over 1,700 online stores donate a percentage of your purchase to attract your business and repeat shopping.
Amazon Smile: Go to Smile and select Hot Springs Village Animal Welfare League before you begin shopping. Then every eligible purchase at smile.amazon.com will result in a donation.
Walk for a Dog: You walk your dog anyway. Now every time you walk your dog (or a virtual dog), they donate to HSV AWL. Treadmills don't count.
Get the app at WoofTrax.com and take your Walk for a Dog Everyday.
---
2018 AWL Winter Party
A few years ago AWL moved our annual holiday party from December to January because of the extreme overload of December activities. This year's party is Friday, January 12th at Diamante Country Club. Click here for the reservation form.
Join AWL supporters and volunteers for an evening to celebrate our accomplishments in our constant efforts to save them all. Join us for a tasty dinner and joyful camaraderie on January 12th.
We will have a cash bar beginning at 5:00 p.m. and dinner at 6:00. The menu is listed on the reservation form, and it promises to satisfy your cravings.
Following dinner you will be treated to entertainment (a secret for now), installation of Board members, and a general good time for all.
You must get your reservations in by January 4th, so act now.
---
AWL Wins Huge Surprise Grant
For a chance to win HSV Animal Welfare League a grant, Debe Jolliff of Hot Springs Village submitted a story about how adopting Jerry the cat from Hot Springs Village Animal Welfare League improved her father's life.
Debe won a $1,000 gift certificate to Petco, and her entry won an amazing $25,000 for AWL! A crowd of volunteers and supporters were on hand at the Benton Petco for the surprise award.
Debe's story about adopting cat Jerry as a companion for her widowed father is sure to touch your heart-clearly it touched the hearts of those contest judges. It was one of only 52 winners out of thousands. You can read the story HERE.
Bill Harvison, Petco District Manager for Texas, Arkansas, and Missouri, presented the award to AWL President Susan Luse amid gasps from the crowd who were overwhelmed by the large amount.
Nancy Harlan explained how Debe and two other adopters submitted their stories for the contest upon the urging of the adoption coordinators, Nancy Jones and Connie Mills for cat adoptions and Shelley Shepherd for dog adoptions. She also highlighted the vital role these adoption coordinators play in the successful forever placement of pets into loving homes.
Nancy Jones thanked Petco Store manager Steve Wilburn and his staff for their longtime support during the past seven years AWL has taken cats and kittens every Saturday to that Petco for adoption. Angela Nickols thanked Petco Foundation for its continued monetary support with grants to serve AWL purposes, such as spay/neuter clinics and vouchers, in addition to other expenses for rescued pets.
AWL could not continue to save Village cats and dogs and place them in loving homes without the unwavering support of warm-hearted Villagers by your membership, donations, and contributions as volunteers. Because of your support, AWL works in partnership with POA Animal Control to maintain a No-Kill shelter. Warm holiday wishes to all!
---